Welcome to the Solaris Blog! ヾ( ʚ̴̶̷  .̫ ʚ̴̶̷ )ノ"
It's time to take a look at another Kotobukiya Horror Bishoujo figure! Today's leading lady is the stab-happy

 

Michael Myers

 

from the Halloween franchise.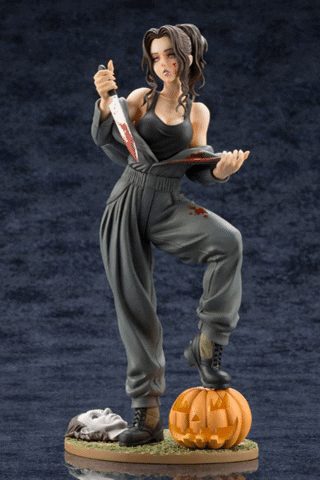 This is another villain who first appeared on the silver screen in the '70s, but the franchise is still churning out all manner of sequels, books, and graphic novels. No comment on the quality of said sequels, but we do love the grunge punk spin on the character that's courtesy of illustrator Shunya Yamashita.
Hmm, looks like Michael's just offed another person, but who could it be?
Like the Leatherface figures, the overall design is a combination of homage and creative liberty. There are forum posts aplenty debating the true color (is it spruce green? Navy?) and brand of Michael's coveralls that he swiped from that poor mechanic; Kotobukiya seems to have gone for a compromise of the two colors while opting for a more form-fitting silhouette. 
With their hairstyle, it has more of a sporty effect than va-va-voom — there's an art to making baggy clothing look good (someone please help us figure it out irl) and the sculpted creases are doing the heavy lifting here. 
The entire point of the original 1978 coveralls is to be nondescript, but the cinched waist and inner stitching details along the collar and inside of the coveralls channel the more refined Bishoujo Horror allure.
 

(◡‿◡✿)
Which, if we think about it, makes a female reimagining of Michael Myers a bit of an odd choice since the dude murdered his sister at the tender age of six, casually stalked a bunch of teens before killing them (and Bob the boyfriend), and has a deep aversion to the sensual. ( ꒪Д꒪)ノ 
Maybe that's what makes this figure more creepy the longer you look at it. Their expression looks sultry at first, but it gets emptier and emptier; we can never tell exactly what Michael is thinking in that first movie, but he always seems to be watching and waiting.╭( ๐_๐)╮
Whoo, more blood effects! We got deep for a second, but let's not forget that this is also the movie that spawned the modern slasher flick. Michael's not drenched in over-the-top gore, but looking at the hardware store knife, the splatter on their cheek, and the stains on the pant and inside of the coveralls have us wondering how exactly they cornered their latest victim. (⊹◕ʖ̯◕)
We tried so hard to figure out which movie this damn jack-'o-lantern is from because it's definitely not the first one. Our best guess is Halloween II, but if y'all know, please tell us. ┐(´д`)┌ 
Of course, included is the original Captain Kirk mask that production designer Tommy Lee Wallace snagged on Hollywood Boulevard for $1.98. We expected Michael's iconic mask to be wearable, so we're surprised its sole function is to sit on the textured grass base. 
Despite that small drawback, it's a beautiful figure — Michael's lifeless eyes and nonchalant pose really give us a sense of the character's unhurried nature as they manage to lurk around town in both daylight and shadows. 
We never want to run into Michael Myers in our own hometown, but figures are fine. (;・∀・)This one would be an especially unique addition to any Halloween fan's collection (especially if they already have Michael Myers figures).
If you're brave enough to make this Halloween "The night she comes home," you can find this Bishoujo Horror figure and others on Solaris Japan! 
And, if you liked reading our thoughts on this figure, make sure to check out our previous post about Kotobukiya's two

 

Leatherface figures. Until next time! o(^▽^)o