Kimetsu no Yaiba - Kochou Shinobu - Ichiban Kuji Kimetsu no Yaiba ~Kisatsu no Kokorozashi 2~ - Layer Scape - Prize C (Bandai Spirits)
一番くじ 鬼殺の志 弐 C賞 胡蝶しのぶ LAYER SCAPEフィギュア 全1種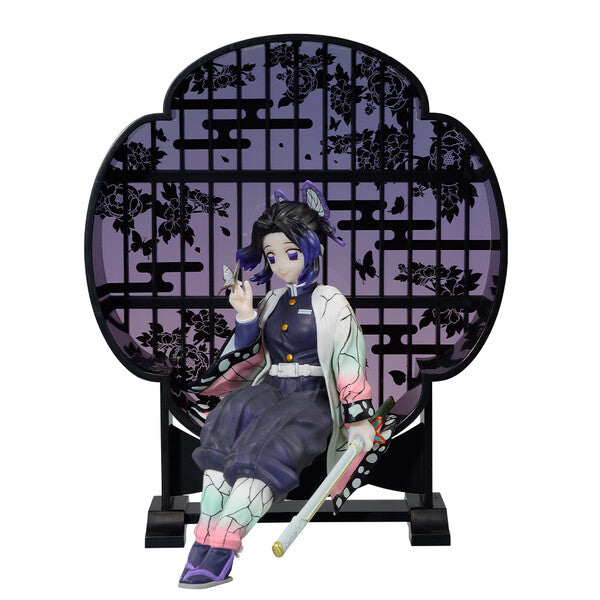 Kimetsu no Yaiba - Kochou Shinobu - Ichiban Kuji Kimetsu no Yaiba ~Kisatsu no Kokorozashi 2~ - Layer Scape - Prize C (Bandai Spirits)
一番くじ 鬼殺の志 弐 C賞 胡蝶しのぶ LAYER SCAPEフィギュア 全1種
---
Franchise
Kimetsu no Yaiba
Release Date
05. Jul 2022
---
Graceful Elegance - Kimetsu no Yaiba: Kochou Shinobu Ichiban Kuji
The Kimetsu no Yaiba: Kochou Shinobu Ichiban Kuji ~Kisatsu no Kokorozashi 2~ Layer Scape Prize C figure by Bandai Spirits is a stunning collectible that captures the graceful and enigmatic nature of the character from the popular anime series. As an avid fan of Kimetsu no Yaiba, I was thrilled to acquire this figure, and it has exceeded my expectations with its attention to detail and elegant design.
The level of craftsmanship in this figure is exceptional. Kochou Shinobu's intricate design is faithfully recreated, from her distinct butterfly-themed kimono to the delicate details of her hair and accessories. The paintwork is meticulous, with vibrant and accurate colors that bring the figure to life. The graceful flow of her outfit, adorned with intricate patterns and textures, adds an extra layer of elegance to the overall design.
The unique aspect of this figure is the Layer Scape presentation. It features a layered base that creates a three-dimensional effect, giving the figure a dynamic and captivating presence. The base itself is beautifully designed, incorporating elements from the series, such as intricate patterns and symbols, to enhance the overall aesthetic. The attention to detail in both the figure and the base showcases the dedication and artistry that went into its creation.
The size of the figure is worth mentioning as well. Standing at approximately X inches tall, it commands attention and can serve as a centerpiece in any display. The sturdy base provides stability and complements the figure's design, creating a harmonious overall presentation. The packaging is also well-designed, ensuring the figure is protected during shipping and arrives in pristine condition.
In terms of build quality, this prize figure from Bandai Spirits impresses. It feels solid and well-crafted, with no visible flaws or imperfections. The materials used are of good quality, ensuring the figure's durability over time. While it may not have the same level of intricacy and detail as higher-priced figures, it still offers an impressive level of quality for its price point.
As a fan of Kimetsu no Yaiba, I am genuinely delighted with the Kochou Shinobu Layer Scape figure from the Ichiban Kuji ~Kisatsu no Kokorozashi 2~ collection by Bandai Spirits. Its attention to detail, elegant design, and overall presentation make it a valuable addition to any collector's display. Whether displayed alongside other figures or as a standalone piece, it exudes a sense of graceful elegance and captivates viewers.
In conclusion, this figure beautifully captures the essence of Kochou Shinobu, and Bandai Spirits has delivered a remarkable piece of merchandise for fans of Kimetsu no Yaiba. With its attention to detail, unique Layer Scape presentation, and commendable build quality, the Kochou Shinobu Ichiban Kuji ~Kisatsu no Kokorozashi 2~ Layer Scape Prize C figure is a delightful addition to any Kimetsu no Yaiba collection.
Write a review
Get

30 points

for your published review
Sign In to Review
More from Kimetsu no Yaiba