Kimetsu no Yaiba - Kamado Nezuko - ARTFX J - 1/8 (Kotobukiya)
ARTFX J 鬼滅の刃 竈門禰豆子 1/8スケール PVC製 塗装済み完成品フィギュア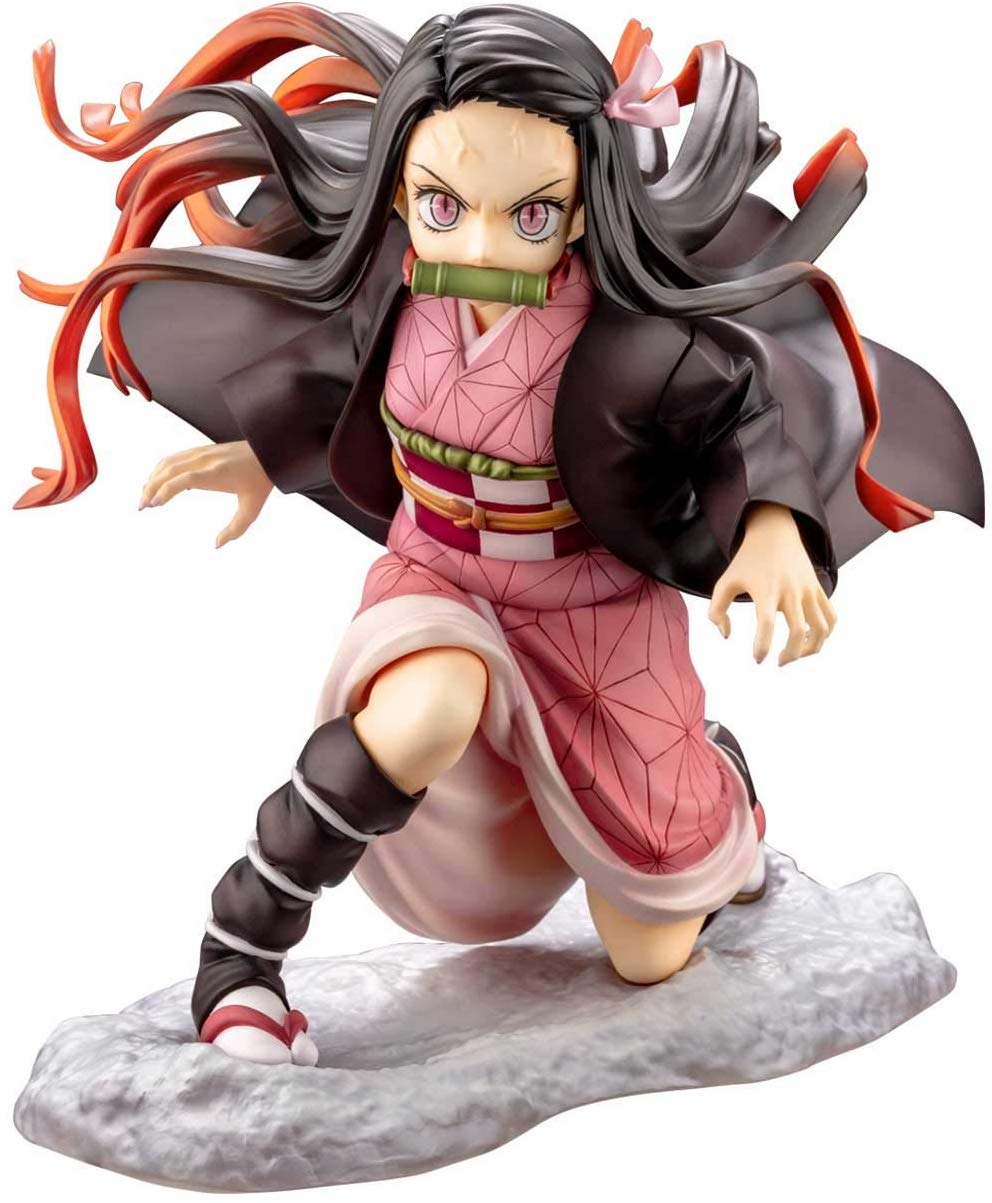 Kimetsu no Yaiba - Kamado Nezuko - ARTFX J - 1/8 (Kotobukiya)
ARTFX J 鬼滅の刃 竈門禰豆子 1/8スケール PVC製 塗装済み完成品フィギュア
---
Franchise
Kimetsu no Yaiba
Release Date
18. Jun 2020
Scale
1/8  H=143mm (5.58in, 1:1=1.14m)
---
Beautiful Furry Kamado Nezuko
The Kimetsu no Yaiba - Kamado Nezuko - ARTFX J - 1/8 figure by Kotobukiya is a true masterpiece that captures the essence and charm of Nezuko Kamado, one of the most beloved characters from the hit anime series. As an ardent fan of both Kimetsu no Yaiba and exquisite collectibles, I couldn't be more thrilled with this remarkable figure.
From the moment I laid my eyes on the figure, I was captivated by its stunning beauty and attention to detail. The sculptors at Kotobukiya have meticulously recreated Nezuko's appearance, ensuring that every aspect of her character design is flawlessly represented. From her flowing hair adorned with delicate details to her intricate kimono, every element exudes elegance and authenticity. The level of craftsmanship is truly commendable, with intricate patterns and textures meticulously recreated to provide a lifelike representation of the character.
Nezuko's pose is both graceful and captivating, capturing her gentle yet determined spirit. Standing at approximately 1/8 scale, the figure stands at a height of around 8 inches, making it a prominent centerpiece for any display. The pose showcases Nezuko in mid-action, with her sword raised and her mouth covered by a bamboo gag, emphasizing her transformation into a demon. The dynamic stance adds a sense of movement and energy to the figure, making it visually striking from any angle.
The paintwork on this figure is exquisite, with vibrant and rich colors that bring Nezuko to life. The shading and highlighting are masterfully applied, adding depth and realism to her features. The intricate details, such as the patterns on her kimono, the subtle blush on her cheeks, and the glossy finish on her eyes, further contribute to the figure's overall quality. Kotobukiya's attention to detail truly shines through in this piece.
The build quality of the figure is exceptional. It is made from high-quality materials, ensuring its durability and longevity. The figure feels solid and well-balanced, with no signs of fragility. The base provided with the figure is sturdy and designed to securely hold Nezuko in place, allowing for worry-free display options.
The packaging is both visually appealing and protective. The figure is encased in a windowed box that showcases the product while keeping it safe during transit. The box features vibrant artwork and character-specific details, adding to the overall collector's experience.
In conclusion, the Kimetsu no Yaiba - Kamado Nezuko - ARTFX J - 1/8 figure by Kotobukiya is an outstanding tribute to Nezuko Kamado and an essential addition to any Kimetsu no Yaiba collection. Its breathtaking beauty, meticulous attention to detail, and exceptional build quality make it a standout piece. Whether you're a dedicated fan of the series or an enthusiast of anime figures, this figure is a must-have, capturing Nezuko's character with grace, elegance, and a touch of fierce determination.
Review
What a wonderful figurine!! The face sculpt is well done, the expression is on point.
I love the dynamic pose. It just looks fantastic!!
Nezuko!
Amazing figure! Arrived so quick! Great price <3 she is a must have in every collection I really reccomend!
Write a review
Get

30 points

for your published review
Sign In to Review
More from Kimetsu no Yaiba