Welcome to the Solaris Blog!
ヾ( ʚ̴̶̷  .̫ ʚ̴̶̷ )ノ"
Today's Early Bird special is Rainbow Dash, the next My Little Pony addition to Kotobukiya's Bishoujo series!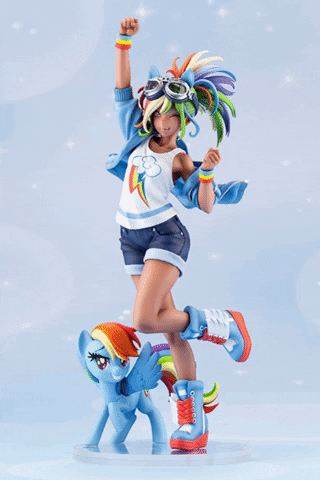 Rainbow is strikingly different from her fellow Pony bishoujos - not just because of her brightly colored attire, but also for her infectious energy! 
She's posed as if caught in a moment of pure excitement, one fist punching through the air. 
This movement can also be seen outside of just her stance. Check out how her jacket slips off one of her shoulders and flutters behind her in the action!
Adding to the brightness of her movements is her equally bright hair! It's been carefully painted to mimic her Pony counterpart's luxuriant mane. Her multi-colored hair is such a nice contrast to her gorgeous tan skin as well. 
Rainbow Dash's sporty look is topped off with her Wonderbolt Academy cadet aviator goggles, but best of all is her athletic shirt designed with her big cutie mark!
But that's not the only spot you might have noticed Rainbow Dash's cutie mark….
Her cutie mark is even engraved in the soles of her sneakers! It's such a small detail, but just adds so much of this pony's personality into the figure. 
But, of course, this beautiful figure wouldn't be complete without her pony counterpart. Wearing a matching grin, Rainbow Dash has been recreated so perfectly. 
From her flowing rainbow mane to her big fluttering eyelashes, Rainbow Dash looks exactly like she does on screen. The balance of her cartoonish look to the more realistic look of Human Rainbow Dash is extraordinary! 
"The fifth pony to join the Bishoujo figure lineup is none other than the sporty Rainbow Dash! You can just feel her energy pouring out with her dynamic pose and sweet smirk. You might also recognize some of Rainbow Dash's outfit: her bomber jacket and goggles are all part of her Wonderbolt Academy uniform. Her brightly colored hair and mischievous grin really bring her personality to life. Rainbow Dash is also joined by her pony counterpart, who has been carefully recreated. Bring these two home today!"